Quality Pieces Curated for Your Lifestyle
We built a better box. Personal styling for the women who do it all.
Get Started
Why wait? You're worth it.
Apply to join
We're here to help you look and feel your best. If our mission speaks to you, we invite you to apply for our personal styling membership!
Get Styled
Once a member, it's just $39.99/mo to work with a personal stylist. The best news? Spend over $100 on any box and your styling is free!
Buy What You Love
Receive a monthly subscription box of curated fashion staples 10 days after you join Jackie. Pay for the items you love and return the rest.
How it Works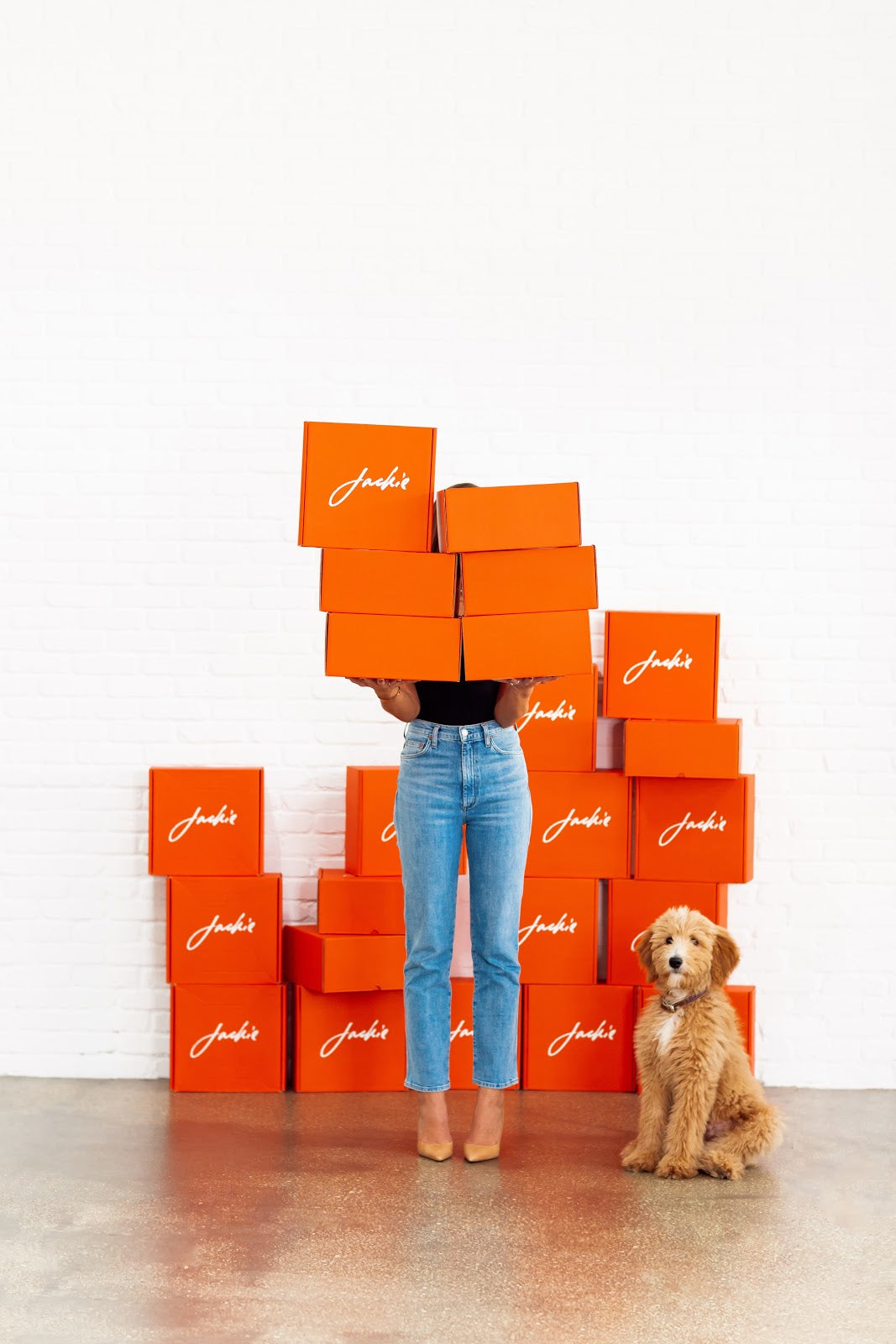 Monthly
Every month your personal stylist will handpick pieces that effortlessly build your wardrobe.

Quarterly
Receive a new box every three months for that perfect seasonal wardrobe refresh

One & Done
Try out a one-time clothing box to get a feel for how our stylists curate looks to perfectly fit you lifestyle!
STYLE. ENJOY. REPEAT.
What Customers Are Saying.
Don't take our word for it, see for yourself what it feels like to open up the future you, folded neatly inside a red Jackie box every month!
Game Changer!
"I've tried SO MANY subscription boxes with no success and I had never had the level of contact or communication with a stylist as I've had with my Jackie stylist! She truly took the time and effort to figure out my style, wants, and needs and that made a huge difference. I LOVED everything in my box and I'm excited to continue working with Lily!"
Alexandra O.
They've Got Me Covered
"The Jackie team is great about staying in touch, communicating your needs and curating a perfect box to freshen up your closet. Sometimes they just know you will love something and they are always right! When I met the founder, Amber Duncan, I shared with her how special I feel getting my box every month and she replied "that's because you deserve it." She's right and I've committed 2019 to self care and great outfits."
Nikki C.
Exceptional Service
"I can't express enough how great my experience was with Jackie. From the first reach out after I took the style quiz to receiving my first box, it was wonderful. Everyone was very friendly, informative and attentive. The clothing chosen for me was beautiful and great pieces to start building a quality wardrobe. If you are on the fence give it a try at least once!"
Tiffany M.
Perfect For Working Moms
"The Jackie stylists always know the perfect outfit to make me feel confident, cute and comfy. As a working Mom, I need outfits that will transition me from Mom life in the morning, to office meetings and off to personal training after work. I rely on their expertise, so it's one less thing I need to worry about. I will never go back to the traditional way of shopping! The Jackie girls always know exactly what I need!"
Meredith K.
Jackie Fan For Life!
"The Shop Jackie team always finds EXACTLY what I need. It is always a little bit out of my comfort zone which is just what I'm looking for. The personal attention, high quality clothes, and the overall experience have made me a SHOP JACKIE fan for LIFE. I love who they are, what they do, and what they stand for!"
Lindsay A.
I Truly Felt Valued
"I love the personal and the thoughtful consideration for what works best on me! Also, I appreciate the Jackie team helping me decide on a must have piece vs. "it can wait!" I truly felt valued."
Rebecca C.
It Was a Dream Experience!
"I was looking for some statement as well as formal pieces for an upcoming trip to Vienna Austria so I scheduled a private appointment at Jackie. From the moment I was greeted by my stylist Rebecca, it was an eye opening, empowering, and fun experience. Rebecca and Jackie owner Amber Duncan, really seemed to listen to what I wanted while also encouraging me to venture out of my typical comfort zones. Thank you for everything ladies! It was a dream experience!"
Jeanne B.
Shopping Has Gotten Way Easier
"The Jackie team has me hooked! They have gotten to know me and how I live and the clothes they select for me make me feel super confident. I may never step foot into a mall again as everything they present is the best quality and not massed produced. Shopping has gotten way easier since I have learned to trust the pros at Jackie."
Lee R.
Love the Care and Personalization
"Love the care and personalized detail sent with every box! I am a Jackie fan!"
Kaci S.
Sabel Just Gets Me!
"Sabel really went above and beyond; my first Jackie box was better than I could have dreamt. She really took the time to get to know me and my preferences. I can be extremely wishy-washy about what my fashion goals are, but Sabel even took the time to encourage me to find my bearings and focus on what I am truly trying to achieve with my Jackie Box. Can't wait for my next one!"
Kiley D.
Build Your Dream Wardrobe!
Subscribe and get our FREE & interactive Dream Wardrobe Worksheet. You know you want it!